Sludge is an intrinsic by-product of the Oil & Gas Industry, considered as a hazardous waste and generated upstream & downstream during production, storage, transfer and other processes. There are few technologies within the industry to process it under an environmentally sound protocol.
ECO-LOGIC's main objective is to provide the client with a holistic service approach, to entirely remove a potential environmental liability, and at the same time recovering high quality crude oil volumes, turning liabilities into added value, thus increasing the business' bottom line. Additional benefits are increased net production of crude, liberation of dead storage space in tanks, minimized/reduced tank maintenance and safe operation of equipment.
Besides ECO-LOGIC's proprietary STO technology, ECO-LOGIC is able to offer end to end solutions for any type of sludge project, entailing, but not limited to, as follows:
Site survey (tanks, open & closed pits etc.)

Sludge analysis on site

Sludge sampling

Laboratory analysis of sludge samples (quantitative and qualitative)

Comprehensive laboratory report, inclusive of chemical and mechanical solutions/recommendations (process descriptions), budgetary cost for chemicals, equipment, installation and labor – dependent on client request

Comprehensive project plan based on laboratory report/findings

Provision of chemicals, equipment and personnel to execute the project

End of project reports
SLUDGE TO OIL Technology (STO) is a proprietary process, utilized to break emulsions of hydrocarbons/water/solids. The process is based on a series of chemical reactions, involving surfactants, that interact with other reagents in releasing heat and neutralizing the non-covalent forces, that form the bonds between the substrate and the wetting agent. A specially (case specific) designed mechanical process to separate the emulsion constituents is required following the chemical reactions.
SLUDGE TO OIL Technology (STO) allows the operator to:
remove any environmental liability

recover/reclaim valuable crude oil, turning liabilities into added value

increase net production of crude oil for refining

increase storage capacity and minimize tank maintenance

keep equipment operating safely
SLUDGE TO OIL Technology (STO) – Tech Description  
STO is a proprietary process utilized for emulsion resolution. The process is based on a series of physical processes and chemical reactions, involving amphiphilic surfactants (anionic and cationic), interacting as structural analogs, disrupting the three layer surface of the emulsion micelles. The presence of other reactants which release heat and independently neutralize the Van der Waals ionic forces and induction of non-covalent forces, including the dipole-dipole hydrogen bonds, the instantaneous dipole induction forces known as London forces and the long range induction forces known as Hamaker forces. These interactions form the bonds between the substrate and the wetting agents making the emulsion stable.
The exothermic reaction that evolves during the process does not change the chemical structure of the aliphatic and aromatic hydrocarbons, and is mainly a reaction among the specific reactants added. The byproducts of the reactions are inorganic salts, water and carbon dioxide that form tiny bubbles which promote oil flotation and solids separation. Solvation of the inorganic salts by the released water is also promoted, while viscosity is reduced by means of increased temperature, resulting from the reaction. The reaction is not pH dependent and does not change the initial pH of the emulsion throughout the process. Once the emulsion is unstable, its constituents can be separated by specific gravity differential into solids (minerals), water and hydrocarbons. A specially (case specific) designed mechanical process to separate the emulsion constituents is required following the chemical reactions.
Basic Process Overview
On request and based on project
Open Pits Sites Setup Pictures


SLUDGE TO OIL Technology (STO) – Lab Testing
For any sludge project, sampling and sample analysis/lab testing is mandatory and key for a successful project delivery.
Samples can be tested at our main laboratory in Placentia, CA, USA, or at a well equipped laboratory on site, to analyze and determine the capabilities of the STO technology in resolving the emulsion and enable the separation of the three phases.
Samples are usually analyzed using a retort to determine the mass and volumetric content of oil, water and solids in the samples.
Qualitative and quantitative techniques are used to determine if the sludge can be "resolved", using different, tailored and proprietary chemistry combinations on each sample. Lab equipment being used:
Variable Speed Centrifuge 760g, max. capacity of 10 tubes @ 50ml each

Fixed RPM Centrifuge 1,300g, capacity 8 tubes @ 20ml each

Heat Plate with Magnetic Stirrer

Variable Speed Agitator

Extraction Hood

50ml Baroid Retort with Temperature Controller

Scales (Three Different Resolutions)

SS Drying Oven

Miscellaneous Glassware
Sample after Centrifuging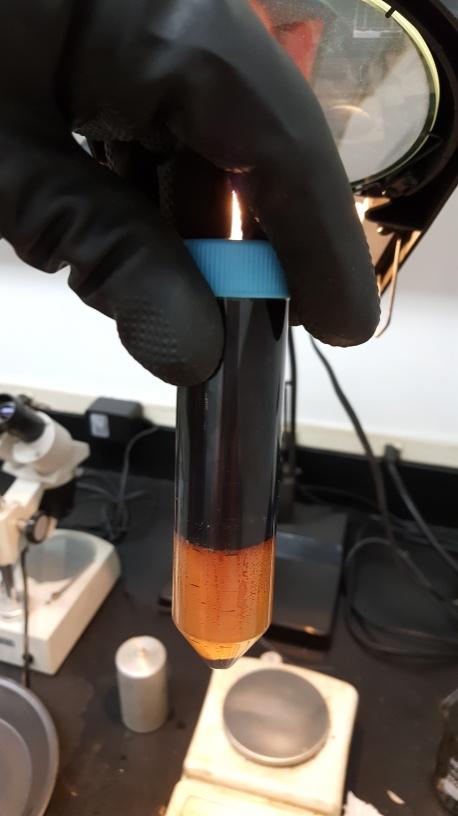 Qualitative and quantitative results are recorded, indicating phase separation of water, solids and oil after the centrifuge. The recovered oil is then processed using method ASTM-D96-88 for BS&W.
Conclusions of the samples tested are drawn, indicating expected results for the STO technology to perform in the field, separating and recovering highly valuable oil from the sludge at estimated rates of recovery of available/present oil.
Estimations on sludge volume reduction are given, i.e. estimating volume of final solids to be disposed of.
Solutions & services for water treatment to below threshold levels for safe disposal will be provided upon request.
ECO-LOGIC Environmental Engineering Inc. will provide holistic services for the entire scope of such a project.